Shona Presents: SHINE Festival
Tuesday, October 11, 2022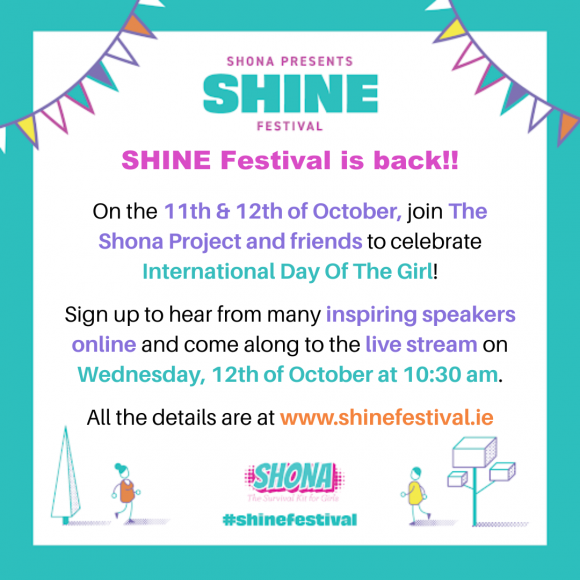 SHINE Festival is an empowering event for the young women and girls of Ireland, featuring many, many speakers on topics such as self-esteem, resilience, career, arts, wellness, health sports, people, planet, and social issues. In 2021, SHINE Festival had over 40,000 attendees with over 1 million video loads, and this year, we're bigger than ever!
This year Shine Festival will launch on October 11th and 12th, with a live event in The Conference Centre at The Clayton Burlington Road!
There are 3 ways you can get involved this year:
LIVE EVENT: Schools are invited to attend the live event, hear from our panel of speakers and performers, and a festival site to explore. In-person tickets are now sold out, but we encourage you to get your entire school involved virtually!
SCHOOL FESTIVAL: Stream the live event in your school gym, hall, or classroom, hearing from amazing speakers, and taking part in challenges, competitions, and conversations. FOR FREE!
ENGAGE ALL YEAR: We are having 100 conversations with interesting and inspiring women with something for everyone. Sign up to have access to the video library for the entire school year FOR FREE!
In-person tickets are now sold out! Thank you to all who signed up. Alternatively, schools and individuals are invited to join our virtual event by completing this form and one of our team will get back to you.
Please don't hesitate to reach out to the team by emailing shinefestival@shona.ie or calling us on 086-0144728.
Starts: 11 October 2022
Ends: 12 October 2022
Location: Virtual