The Impact of Covid-19 on Women
Tuesday, November 16, 2021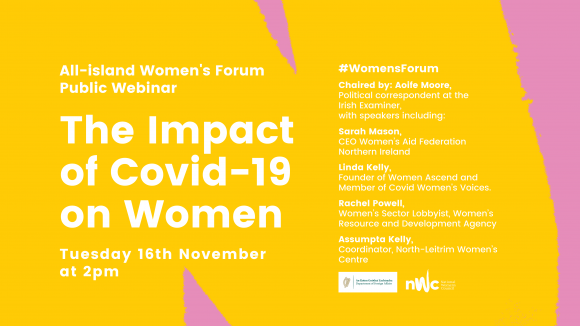 Join the All-island Women's Forum for a panel discussion on the impact of Covid-19 on women.
Tuesday November 16th at 2pm
The immense and disproportionate impact of Covid-19 has been felt by women across Ireland, this panel discussion brings together speakers North and South to discuss the impact of the pandemic.
Speakers include;
Sarah mason, CEO Women's Aid Federation Northern Ireland
Rachel Powell, Women's Sector Lobbyist, Women's Resource and Development Agency
Linda Kelly, Campaigner, Founder of Women Ascend and member of Covid Women's Voices
Assumpta Kelly, Coordinator, North leitrim Women's Centre
Chaired by Aoife Moore, Political Correspondent, Irish Examiner
Register for this event via eventbrite here
The webinar will be supported by ISL Interpreters.
The All-island Women's Forum provides a space for women from across the island for cross border cooperation and dialogue.
Led by the National Women's Council (NWC), The All-island Women's Forum aims to address underrepresentation of women and further develop women's role in peacebuilding and civic society. Consisting of 28 members, 14 from the North and 14 from the South, the Forum aims to build sustainable North South links, provide a space for marginalized communities, and build better understanding and inter-community links.
The Forum represents a contribution by the National Women's Council to the Irish Government's Shared Island initiative in the Department of an Taoiseach, by enhancing civil society links and supporting engagement by women, across communities and traditions on the island, on issues of common concern.
The forum is funded by the Department of Foreign Affairs Reconciliation Fund
Starts: 16 November 2021 14:00
Ends: 16 November 2021 15:00