UCC Feminist Zoom Book Club - open to everyone! 1st meeting June 17th
Wednesday, June 17, 2020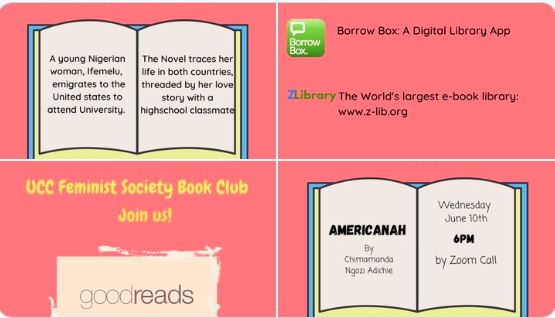 University College Cork's Feminist Society is launching an online book club this summer.
You are invited to join a group of passionate individuals to collectively enjoy and discuss incredible books, giving you the opportunity to broaden your knowledge of literature, contribute your opinions, and learn from others.
Each month a new book to read and discuss will be chosen. This book club is open to everyone, of all reading abilities and we would love to hear a diverse range of perspectives on our reading.
The first meeting will be on June 17th via Zoom, to discuss the book "Americanah" by Chimamanda Ngozi Adichie.
Head over to the UCC Feminist Society's page on Facebook, Twitter, or Instagram to join.
This is the link to our Facebook if you still need it,
https://www.facebook.com/UCCFemSoc
and our Twitter,
Starts: 17 June 2020 19:00
Ends: 30 June 2021 21:00
Location: Online