UN Day Opposing Violence against Women Webinar
Friday, November 25, 2022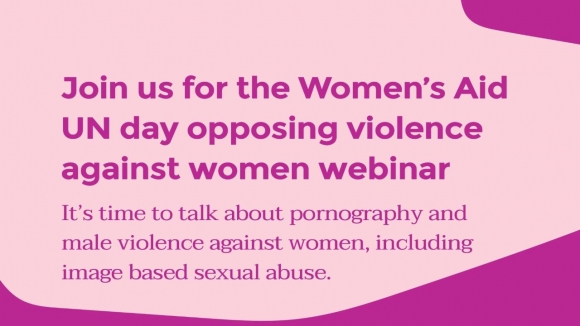 JOIN US FOR THE WOMEN'S AID UN DAY OPPOSING VIOLENCE AGAINST WOMEN WEBINAR

It's time to talk about pornography and male violence against women, including image based sexual abuse.

When: Friday 25th November 2022
Time: 11am to 1pm

Contributions from:
Helen McEntee, T.D., Minister for Justice.
Richard Hogan, Family Psychotherapist and author of 'Parenting the Screenager.'
Dr. Gail Dines, Founder & President of Culture Reframed, and Professor Emerita of Sociology and Women's Studies, Wheelock College, Boston.
Sarah Benson, Chief Executive, Women's Aid.
Professor Clare McGlynn KC (Hon), Professor of Law at Durham University, UK, with expertise in the legal regulation of pornography, cyberflashing, and online abuse.
Alexandra Ryan, Founder and CEO of Ireland's leading female-focused news website, Goss.ie and Ambassador for the Department of Justice intimate image abuse awareness campaign.

Followed by Q&A and Closing Remarks

This event will be chaired by Ailbhe Smyth, chairperson of Women's Aid.

Irish Sign Language Interpretation available.

This event is free of charge.

Starts: 25 November 2022 11:00
Ends: 25 November 2022 13:00
Location: Online