Webinar on the Prevention and Protection from Violence: Examining Gender-Based Violence
Thursday, December 10, 2020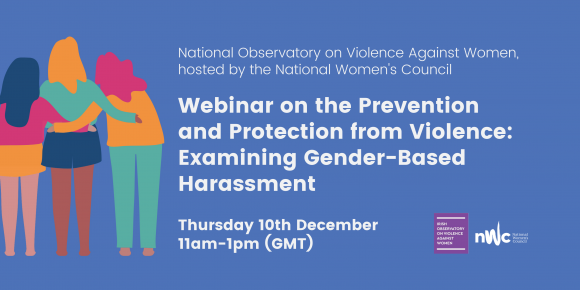 On behalf of the National Observatory on Violence Against Women, the National Women's Council are very pleased to invite you to join us in a webinar to mark the 16 Days of Action 2020 to End Violence Against Women.
This year's the event will be a webinar held on 10th December, from 11am - 1pm and will explore gender-based harassment from different perspectives under two pillars of the Istanbul Convention - Prevention and Protection.

We are very pleased to announce that Prof. Naudi will be giving the Keynote address focusing on gender-based harassment under the Istanbul Convention. Prof. Naudi represented Malta on the Council of Europe ad Hoc Committee on Violence against Women and Domestic Violence (CAHVIO) which drafted the Istanbul Convention, and is now an elected member and President of its Group of Experts, the GREVIO.
The keynote will be followed by a panel discussion considering the theme from a variety of different perspectives, confirmed speakers thus far include:
Sarah Benson, CEO Women's Aid, who will speak to the experiences of intimate partner abuse of young women (both on and offline)
Mary Louise Lynch, Survivor and Founder of Sisi who will speak to harassment within intimate partner relationships and mechanisms of employed by perpetrators.
Salome Mbugua, AkiDwA, Head of Operations and Strategy who will speak to the experiences of ethnic minority and migrant women.
Pirkko Mahlamäki - Secretary general of Finnish Disability Forum and European Women's Lobby Board Member who will speak to the experiences of disabled women.
Sandra Healy, Head of Diversity and Inclusion at Dublin City University who will to speak about gender-based harassment within third level education and the workplace.
Please register for tickets here.

Starts: 10 December 2020 11:00
Ends: 10 December 2020 13:00