'Women In Research' Panel Discussion & Reception - Trinity College Dublin
Tuesday, March 07, 2017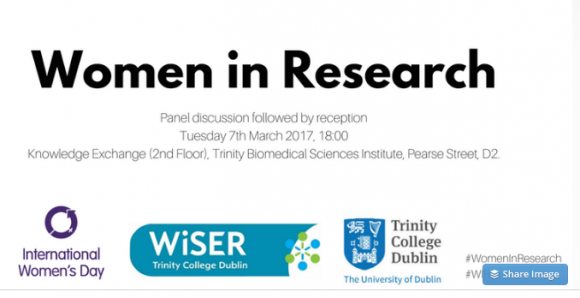 'Women In Research' Panel Discussion and Reception
Join us for this Women in Research panel discussion to celebrate International Women's Week, with audience contributions and questions welcome and encouraged.
The discussion will focus on the experiences of women in academia and research, including topics such as: impostor syndrome, visibility of female experts in the public, parenting while working on research contracts (maternity leave, child care, etc.).

The discussion will be followed by a reception, which will offer an opportunity to continue the conversation, mingle, and get to know other women in research in Trinity.
Panellists include:
• Professor Eileen Drew, Director of Women in Science and Engineering Research (WiSER) and National Senior Expert for the European Fundamental Rights Agency (FRA) and the European Gender Equality Institute (EIGE)
• Dr Roja Fazaeli, Lecturer in Islamic Civilisations, author of Islamic Feminisms: Rights and Interpretations Across Generations in Iran, and mother
• Dr Frédérique Vallières, Assistant Professor in Psychology and Director of the International Doctorate in Global Health
• Dr Gaia Narciso, Associate Professor with the Department of Economics and mother of two
• Grace McDermott and Catherine Connolly, founders of the blog Women Are Boring: Fascinating Research by Interesting Women and Ph.D. candidates at Dublin City University
• Holly Foley, Ph.D. candidate in the School of Sociology, mother, former Trinity Access Programme student, and coordinator of the Rising Tide Project.

All are welcome! Please register online at bit.ly/TCDWomenInResearch
-------------

Starts: 7 March 2017 18:00
Ends: 7 March 2017 20:00
Location: Knowledge Exchange (2nd Floor), Trinity Biomedical Sciences Institute, Pearse Street