Women's Mental Health Network Webinar - Exploring Compassion and Restoration
Friday, December 04, 2020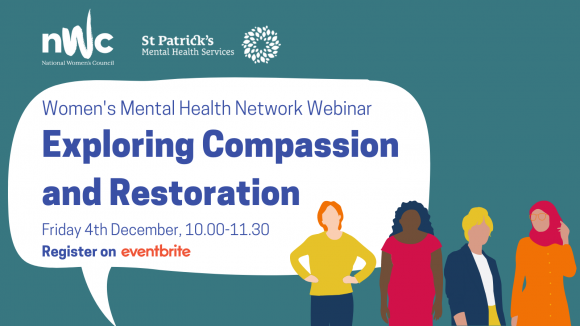 The National Women's Council of Ireland with St Patrick's Mental Health Services invites you to join the second online webinar from the Women's Mental Health Network, Exploring Compassion and Restoration.
It has been a challenging year for everyone. The ways in which we live and work have changed and so too should how we look after our own mental health and wellbeing. For the final Women's Mental Health Network event of 2020 we would like to offer those working on the frontlines the opportunity to reflect and restore.
We are delighted to have Dr Katie Baird joining us who will present on Compassion Focused Therapy (CFT) and Compassionate Mind Training (CMT). Dr Baird will offer a variety of ways to think from a compassionate perspective and practices to cultivate compassion in our personal and professional lives.
Dr Katie Baird is a practising compassion focused therapist, and the founder of the Irish Centre for Compassion Focused Therapy (ICCFT). She is a counselling psychologist with over 20 years experience working with young people and adults. Having trained in the U.S. and Dr Baird has worked in mental health care and academic settings in Ireland for 19 years.
Please advise Susan McCormack, susanmcc@nwci.ie if you have any special requirements, e.g. ISL interpretation, by the 30th November. This will help us in our preparations for the event.
Starts: 4 December 2020 10:00
Ends: 4 December 2020 11:30