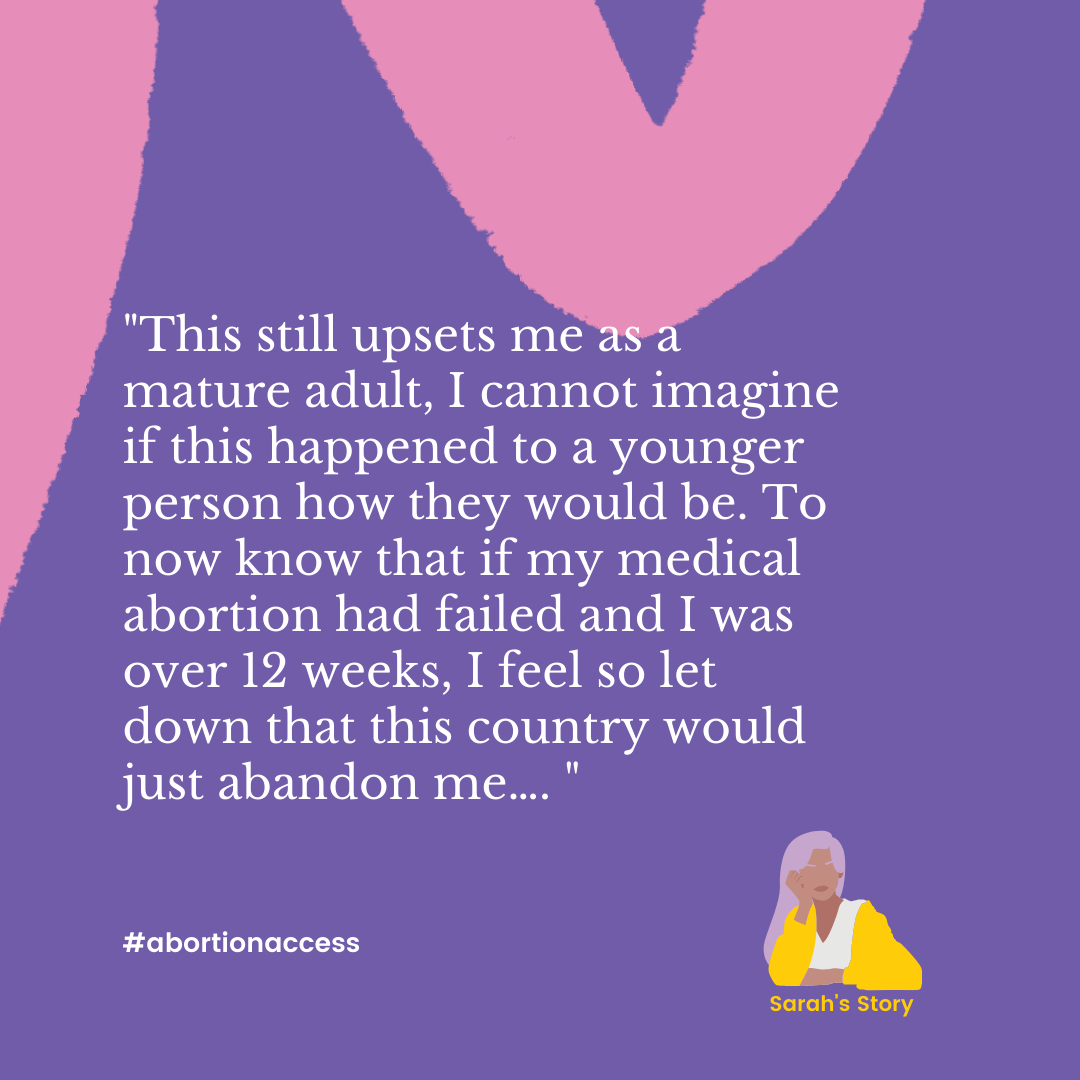 Sarah* has asked us to share her story with you. She doesn't want anyone else to go through what she endured because of Ireland's restrictive abortion law.
'This still upsets me as a mature adult, I cannot imagine if this happened to a younger person how they would be… To now know that if my medical abortion had failed and I was over 12 weeks, I feel so let down that this Country would just abandon me…. I am unsure if you are right people to contact but I would like to ensure that if I was over 12 (weeks) I would be taken care of.'
…….
Sarah discovered she was pregnant at around 8 weeks. The pregnancy was unplanned, the result of contraception failure. Sarah was naturally distressed, and on discovering she was pregnant, she contacted My Options, the HSE freephone line that provides free and confidential information to people experiencing an unplanned pregnancy. After discussing the choices available to her, Sarah was clear in her decision to have an abortion and was given details of her nearest providing GP.
At consultation, her doctor told her there would be three-day mandatory wait period before the abortion pills could be provided to her in a follow-up appointment. This came as a shock to Sarah, as she had already spent time considering her decision. In her own words: "The fact that you have to wait an extra three days adds pressure and uncertainty that you can access an abortion. I had spent enough time myself contemplating the decision, this left me upset and worried."
After the three days, Sarah's doctor gave her abortion pills to take at home. He told her what to expect and gave her a pregnancy test to take in two weeks' time to make sure that the pills had worked. Although failed medical abortions are very rare, after two weeks Sarah did the test and discovered she was still pregnant.
At this point, Sarah was now 10 weeks pregnant and, with the 12 week-limit approaching, she was becoming increasingly distressed. She rang the GP and he advised her that she would need to go to the maternity hospital.
At the hospital, Sarah requested a surgical abortion, however, the earliest appointment would have been the following week, bringing her right up to the 12-week limit. At this point, Sarah felt trapped – "I felt the only option open to me was the abortion pill again."
At 11 weeks and deeply anxious about the 12-week limit, Sarah had a supervised medical abortion in hospital. She now feels that if she had been given more information on the nature of medical abortion at 11 weeks, a surgical abortion would have been the better option for her – "As someone who had never been pregnant before I had no idea what I would be put through. I would never allow any woman I know to go through that process without full disclosure."
Sarah's case highlights the myriad of issues women still face when trying to access reproductive healthcare in Ireland. In particular:
The three-day waiting period impedes doctors' abilities to provide urgent care when required and places undue stress on women. It is unscientific and undermines women's competency as decision makers about their own lives.
The 12-week limit places additional stress on both women and their doctors, particularly in the very rare circumstances of failed medical abortion
The limited option for surgical care pre 12 weeks undermines meaningful shared decision making. Medical abortion is much more common under 12 weeks and while this works for many women, there should always be the option for surgical care where that's the service-user preference
The government is currently reviewing the legislation. The National Women's Council is calling for the removal of all obstacles to safe abortion so everyone can receive the care they need at home in Ireland.
We'd like to thank Sarah for sharing her personal story with us.
If you'd like to support more accessible abortion care for all women and pregnant people in Ireland, please consider signing up to our mailing list or making a donation to our work. Thank you.
*Sarah's name has been changed to protect her anonymity