Working with young women - #FemFest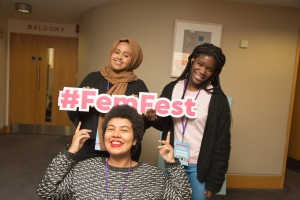 The voices, perspectives and experiences of young women are so important in the feminist movement. Exploring the particular issues young women face, as well as incorporating their thoughts and views into core policies is a crucial part of NWCI's work.
Because of the significant absence of women in traditional leadership roles, women are largely absent in the media and in young women's everyday lives. It is essential that young women recognise their own existing capacity to lead, while also building on that capacity even further. Young women must be encouraged and inspired to take on leadership roles, while also having the confidence to challenge those currently in leadership positions.
This year's FemFest will explore a variety of issues affecting young women, facilitating a space for young people to become changemakers by challenging the gender inequitable attitudes, beliefs and cultural norms which support violence and abuse.
Throughout the year, NWCI hold workshops with young women on a wide range of issues that are important to them. In the workshops, we also provide media training and public speaking training. These workshops build up to a major #FemFest conference for young women, which typically takes place in November. #FemFest is a fun and engaging space about young women and for young women, combining passionate and dynamic speakers of all ages, with musicians and artists both new and emerging.
As well as being a fun and inspiring day combining panel discussions with creative performance, and points for activism and engagement, FemFest is an important opportunity to explore and raise awareness of the issues affecting young women in Ireland today. By helping to plan the event, and through several important inputs on the day, FemFest empowers young women to use their own voice and agency by asking them to set practical objectives on how to address these issues into the future.
The National Women's Council is delighted to partner with Aviva. Visit Aviva.ie
Find out more?
Keep an eye on our social media channels and sign up to our newsletter to be notified about tickets and registration for 2023
If you want to get involved in the programming, please get in touch with Ivanna Youtchak at IvannaY@nwci.ie.