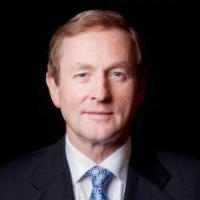 Enda Kenny, Fine Gael: What we will do to advance women's rights in Ireland
Published: Saturday, February 13, 2016
NWCI has asked leaders from the main political parties to outline what they will do to advance women's rights in Ireland when in Government after the General Election. This is the response from Enda Kenny, Fine Gael.
I am grateful to have the opportunity to outline to the National Women's Council my Party's position on advancing women's equality. Fine Gael has always been an inclusive and progressive party, bringing together many voices under one umbrella.
Over the last five years in government, Fine Gael has shown leadership in addressing legacy issues which have so deeply affected many women in this country, including the women of the Magdalen Laundries, symphysiotomy and mother and baby homes.
Having read Breakthrough Manifesto for Women, I believe Fine Gael has made significant progress in advancing equality issues despite the economic circumstances we inherited.
In the last election, Fine Gael received a mandate to restore stability to our public finances and get Ireland back to work. Now, as we work to keep the recovery going, we must continue to ensure the recovery reaches every home and work pays. Abolishing the USC and providing more affordable and flexible childcare options are key if employers want to attract and retain talent. All workers should be rewarded for the work they do and that women receive the same pay as their male counterparts. Fine Gael is supportive of increased wage transparency, and if the Irish people choose to re-elect Fine Gael, we will require companies of 50 and more employees to participate in pay surveys, to strengthen the principle of equal pay for equal work.
In political arena, we introduced gender quota legislation to ensure more female voices in the Dail as Fine Gael believes that it is only when we have a fair representative of both men and women do we really understand the issues.

With regards to violence against women, Fine Gael has been already taken decisive action. We will implement the Istanbul Convention and update our domestic violence legislation ensuring that Ireland remains a safe and protective place for women.
The 8th amendment is a complex and sensitive matter. We have heard the voices of those women who have so bravely spoken about their experiences; we also want to provide a voice for those who may not have taken this step. Fine Gael if returned to Office we will establish, within six months, a forum in which those voices can be respectfully heard.
Our long term economic plan will allow us to focus on early years and early intervention and tackle social. To fund the health and social services which we all rely upon we need to keep the recovery going. Fine Gael has a long term economic plan that will reduce unemployment to 6% by 2020 and it is only with a strong economy
can we deliver the targeted and improved public services that we want to rely on.
Enda Kenny, An Taoiseach and Leader of Fine Gael