Solidarity and Sharing: Online Gathering of Disabled Women
Wednesday, May 26, 2021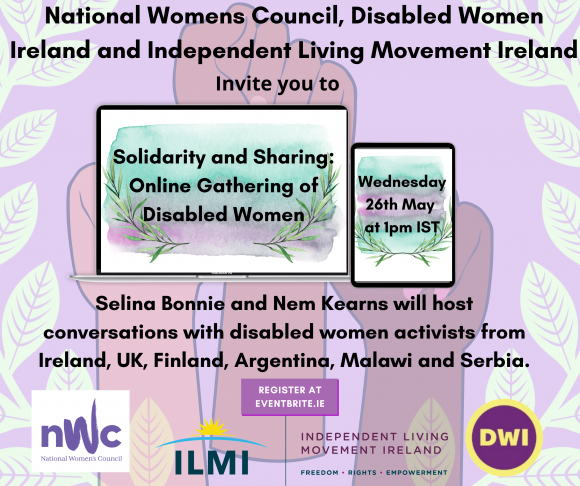 Join us for an online gathering organised by National Womens Council, Independent Living Movement Ireland and Disabled Women Ireland.
This is an unique opportunity to hear from disabled women's activists in Ireland and from around the world to discuss how we can learn from, share and support each other, and build greater international solidarity in our work ahead.
Selina Bonnie and Nem Kearns will host two conversations with disabled activists including:
Dr Rosaleen McDonagh and Aoife Price, Ireland,
Penny Pepper, England,
Ruth Kamchacha, Malawi,
Pirkko Mahlamäki, Finland,
Gordana Rajkov, Serbia,
Ana Dones, Argentina.
Irish Sign Language Interpreting and real time captioning will be provided.
English to Spanish and Spanish to English translation will also be available.
Please contact catherinel@nwci.ie with any accessibility requirements before the 14th May. This will help us in our preparations for the event.
Starts: 26 May 2021 13:00
Ends: 26 May 2021 15:30
Location: Online