Women of Wicklow Social Inclusion Network - Invite you to celebrate International Womens Day
Monday, March 08, 2021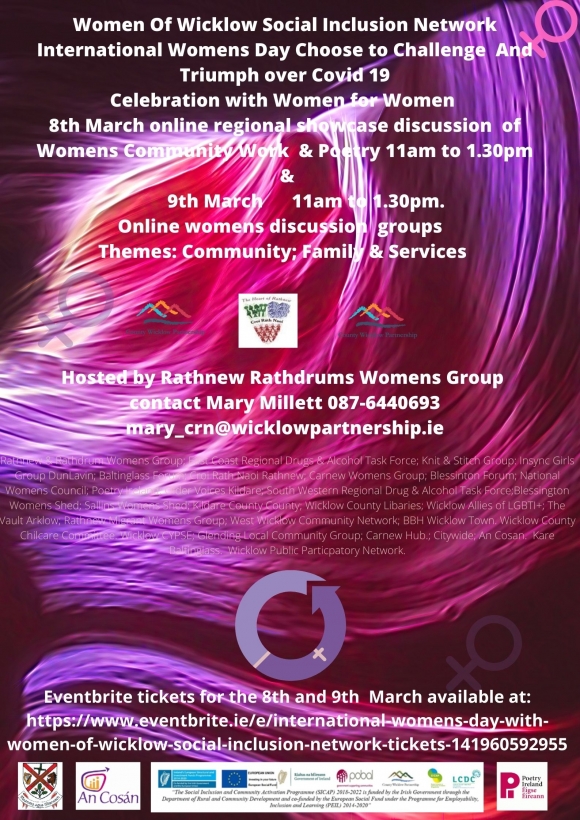 Women of Wicklow Social Inclusion Network are inviting you to their two day International Women's Day Event.
Day One - 8th Of March 11am - 1.30pm
This focuses on Women Leaders in Wicklow and their sister Leaders in Kildare. This is a showcase of the best in Community Development with Women Community/ Voluntary Leaders. Please join us to hear how Women are leading in their rural communities. You will also have a huge treat from Poetry Ireland with Local Poet Jane Clarke and Catherine Ann Cullen chatting and reading some pieces.
Day Two - 9th March 11am - 1.30pm
The second day is about hearing from you. We will open the morning with a Mindfulness session for 15 minutes compliments of An Cosán. We will invite you to join small breakout discussions to share your experiences on the following
1. Community; 2. Services and 3. Family.
You will get to take part in one group on the morning where you will be listened to and respected, encouraged to speak and take part. We want to hear your voice as a woman . What's been important to you during Covid 19 in the last 12 months? What's getting you through the pandemic? Where you see changes to how we live as women after the pandemic?
All women are welcome to take part
If you have a problem with zoom please contact us on this email - croi.rathnaoi@gmail.com
Starts: 8 March 2021 11:00
Ends: 9 March 2021 13:30
Location: Online