The #ItStopsNow campaign is a student-led campaign, initiated by the National Women's Council, which aims to tackle sexual violence and harassment faced by third level students.

#ItStopsNow has three key goals:
We would like to thank all the Student Unions and the USI, who supported the development of this campaign
#ItStopsNow calls on all students and campus communities to:
1. Believe and Support Survivors
Disclosing an incident of sexual violence and harassment can be extremely difficult. As well as feelings of fear and distress, or holding an expectation that little can be done, survivors often face victim-blaming attitudes, all of which contribute to significant under-reporting. As friends, families, colleagues and classmates, when a survivor speaks out, we need to meet them with understanding, belief and support.
Students who wish to anonymously report a disclosure of sexual violence can do so using the Speak Out Tool. Or at UCD use Report + Support - University College Dublin
2. Don't stand by, Speak Up!
Sexual assault doesn't exist in a vacuum: wolf-whistling, catcalling, sexist jokes, 'slut shaming' and more lay the foundations of a sexual violence culture. Women have been at the vanguard in the fight against this culture, but now it's time for others to join us in creating a safe and equal society: each of us has a responsibility to not participate in these behaviours and to call out those that do. We all must also actively include marginalised groups in the process of change.
Women with disabilities are three times more likely to experience physical or sexual violence, with ethnic minority or migrant women also experiencing higher prevalence rates.
Calling out rape jokes, misigony, racism and abelism when we see it, and letting people know that it is not a behaviour we accept in our community is a great step forwards in ending our cultural tolerance for sexual violence.
3. Before you do it, say it, or post it, check if they consent
Consent should be ongoing, mutual, voluntary and enthusiastic. It extends beyond physical and verbal behaviours to online spaces as well.
Online sexual harassment is an increasingly prevalent issue for young students, with toxic behaviours becoming minimised and normalised in society.. Understanding and acting on genuine consent is therefore key to ending the culture of sexual violence and harassment.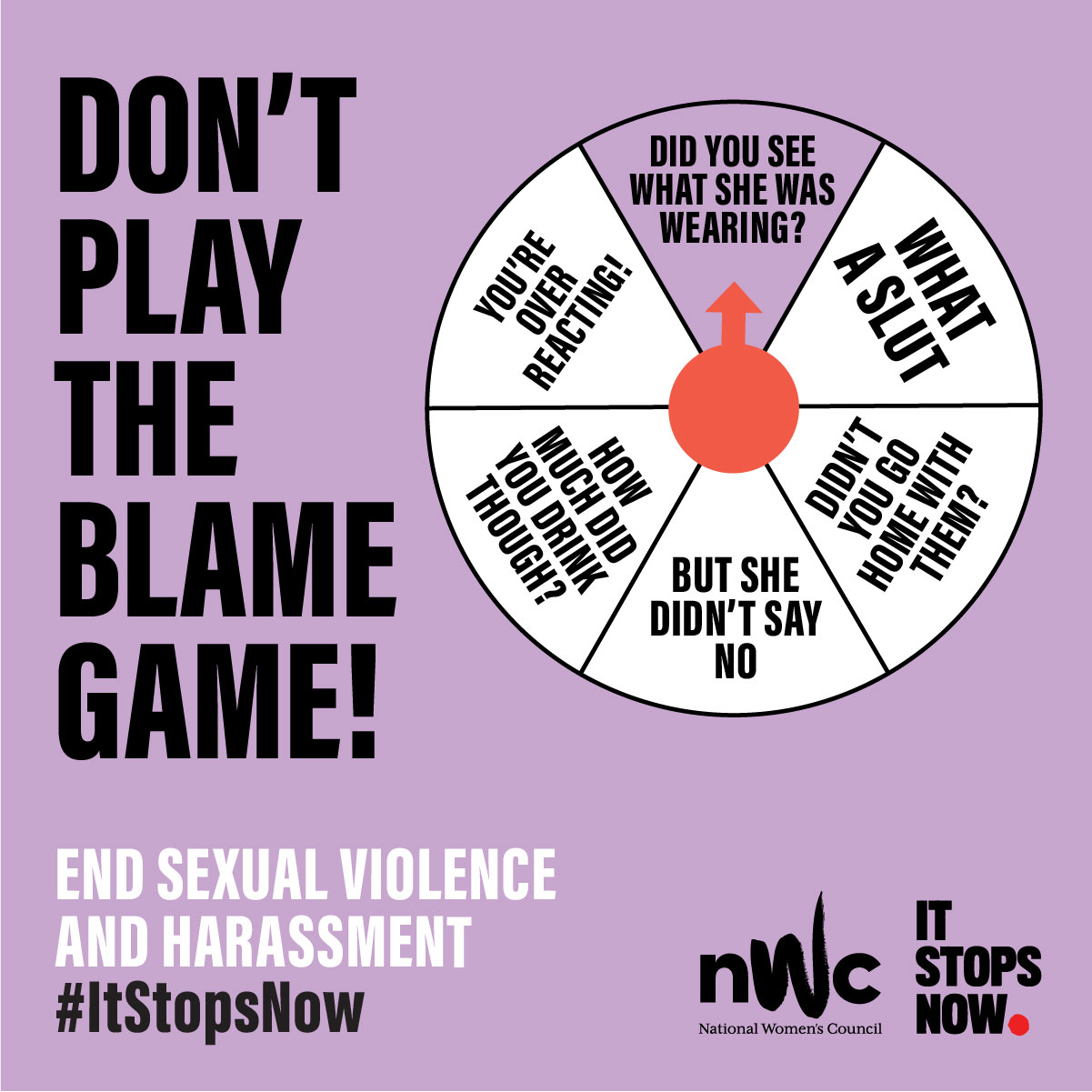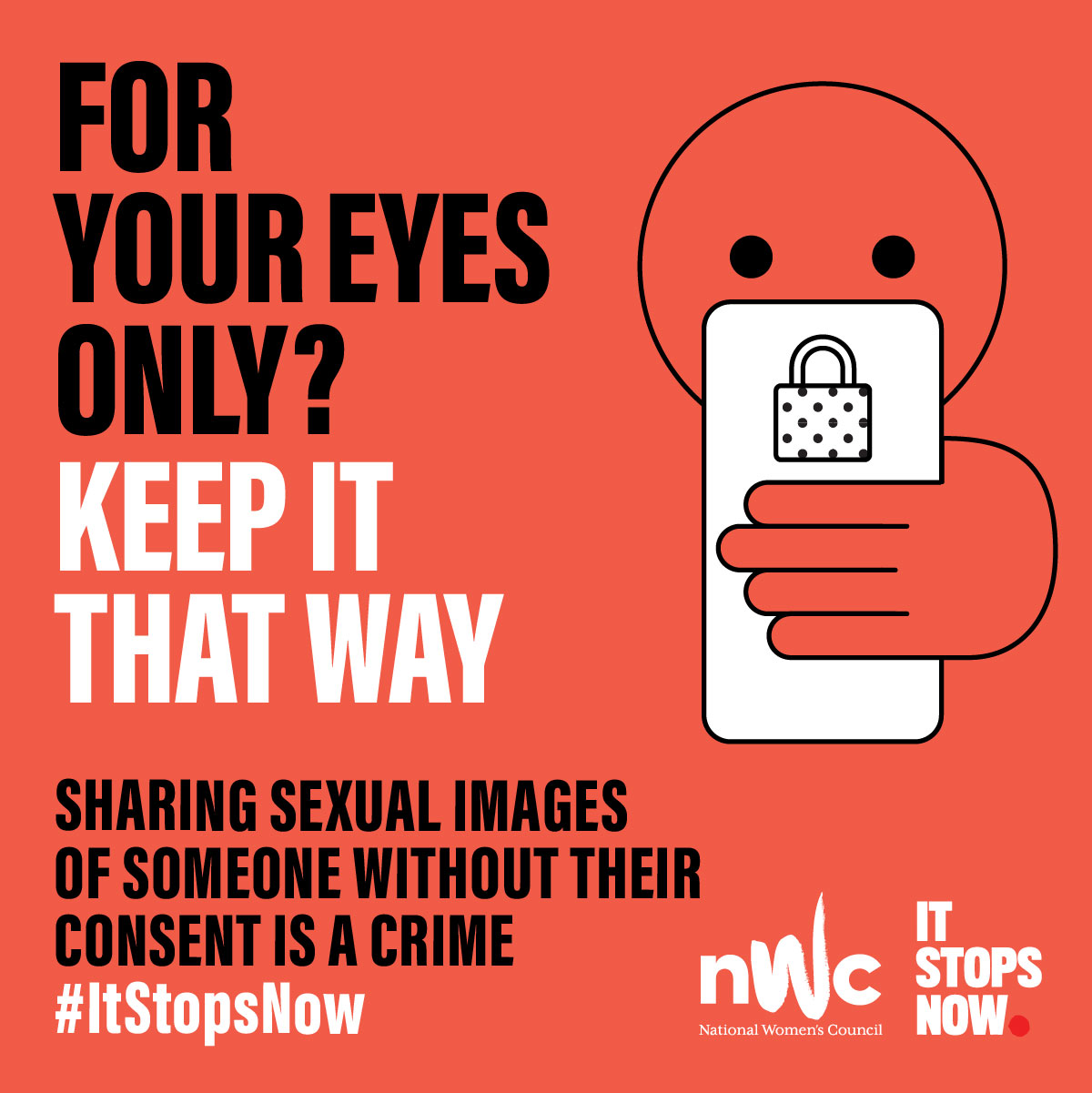 It Stops Now Toolkit
The It Stops Now toolkit is a one stop resource for higher education institutes to develop a zero tolerance approach to sexual violence and harassment on campus. The toolkit makes the case for leadership at the highest management level of higher education institutes. It emphasises the need to invest in comprehensive training for staff and to ensure strong collaborations with external partners, and it outlines the important role that student bodies have in reaching out to the student population on this issue.
Campaign Implementation Pack
Campaign Mural Installation
Further information on responding to disclosures of sexual violence
Northern Ireland
It Stops Now was developed as part of the European Ending Sexual Violence and Harassment in Third Level Education (ESHTE) project and is supported by the Department of Further and Higher Education, Research, Innovation and Science.